Sponsored Video: Angry Birds, shouting is killing
Angry Birds is the game of the moment, no doubt about it. Everyone loves it, regardless of the age. Its amazing success is due to an incredible combination of addictive gameplay, amazing graphics and hilarious sound effects.
Recently Angry Birds, developed by the Finnish game company Rovio, had teamed up with the world's largest electronics manufacturer, Samsung, enabling members of the public to play a specially designed crowd game on Samsung's iconic Piccadilly Circus screen.
In the video above you can see what happened in London on Good Friday (6th April 2012), during a special Easter event. People had the chance to play a very special version of the game, using only their voice to activate the slingshot and kill the annoying little green pigs. The game could be played by shouting into the Samsung Galaxy Note, that was connected wirelessly to the big Samsung Piccadilly Circus screen. An innovative, fun, and highly social way to play Angry Birds, and also, to discover the features of the Samsung's new device. The system has been designed in such a way that the louder the crowds shouted, the further the Angry Birds fly across the screen and the higher the score. Isn't it fun?
Also, the members of the Samsung team, wearing giant Angry Birds masks, invited the public to try out all the many functionalities of the handset and took pictures with the Samsung Galaxy Note that were sent to the big screen and later posted to the Samsung Mobile UK Facebook page.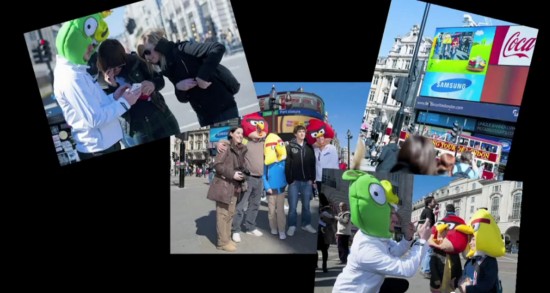 [This post has been sponsored by Samsung]
Tags: advertising, Angry Birds, games, london, performance, Piccadilly Circus, Samsung, video
Trackback from your site.