Check out the amazing Zombie Invasion heatmap, a microsite devised by allfancydress.com…
"In an effort to save the country from certain disaster, the heatmap has been devised to help monitor the spread of infection across the UK. The map is driven by three years' worth of sales data from the wonderful allfancydress.com which sells a raft of zombie related paraphernalia for Halloween.
The map includes a risk level key with the green areas the quietest towns and cities, while the red areas highlight the regions where the zombies are uncontrollably on the loose!
The microsite also offers some useful tips to Halloween revellers looking to survive the zombie 'apocalypse'. Good running trainers are essential to outrun those ghastly subhumans and a baseball or cricket bat may too be useful to deal with one-on-one zombie combat!"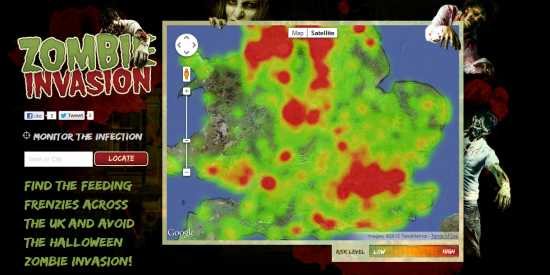 Tags: halloween, invasion, map, zombies
Trackback from your site.