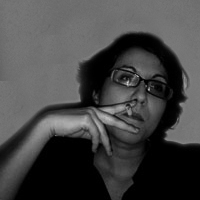 Name: Valentina Tanni
Alias: Praxis
Position: visions hunter
Headquarters: www.valentinatanni.com
Born: February 10, 1976
Place of Birth: Rome
Nationality: Italian
Sex: female
Hair: black
Eyes: brown
Height: 5′ 4″
Weight: 130 pounds
Build: medium
Race: white
Complexion: medium
Scars and Marks: Valentina has one chickenpox scar on her right cheek, an almost invisible but legendary scar under her chin and a weird mole on the left wrist
Perversion: buying gossip magazines for night reading
Since 1996, Valentina Tanni spends most of her time websurfing, writing, smoking, drinking and moving from house to house. Always in multitasking mode. She has a killer pet named Ozzy. She is still looking for a true bastard to marry.
DEADLY SARCASTIC, ESPECIALLY IN THE MORNING